Android Automotive Operating System: A Growth Platform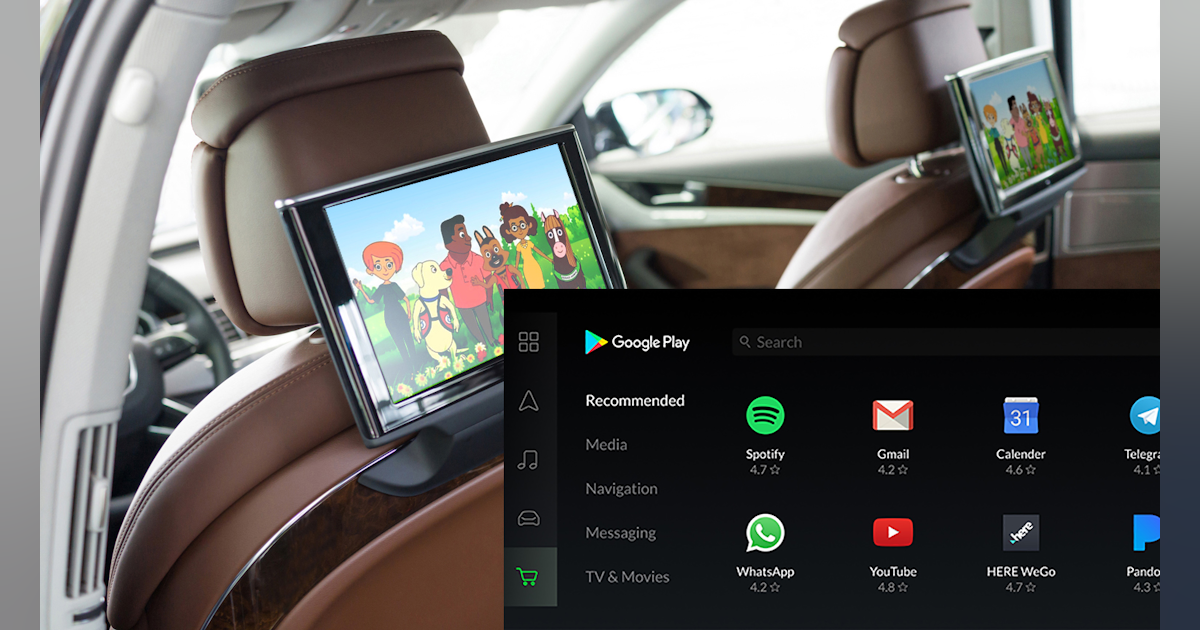 What you will learn:
The rise of sophistication within IVI systems.
Using the Android Automotive operating system to create a complete IVI ecosystem.
The global market for in-vehicle infotainment (IVI) systems is large and growing, driven by consumer demand for smartphone-like features in their cars. According to a recent study by MarketStudyReport, the global automotive infotainment system market is expected to grow from $25 billion in 2020 to $42.85 billion by 2027, a growth rate of 8% per year.1
This obviously creates a huge revenue opportunity for automakers. Consumers continue to seek more in-car entertainment options, real-time communication, robust connectivity, improved safety, greater convenience and ease of navigation. In turn, the world's leading automakers strive to develop advanced systems that meet these needs and are constantly updated with the latest developments in consumer electronics, especially smartphones.
By offering the most innovative and advanced infotainment systems, car manufacturers can not only win the sale in the short term, but also strengthen their brand image and retain consumers in the long term. Additionally, when the majority of the fleet is permanently connected to the cloud, OEMs will have a foundation to leverage continuous update cycles that support user experience improvements and other services that may be monetized.
However, developing these complex systems, which rely on a combination of advanced electronics, hardware, software, displays and controls, is not easy. Automakers need access to a wide range of expertise to develop the underlying technology platform, as well as add the on-board software and controls needed to support state-of-the-art human-machine interfaces (HMIs).
The widely accepted best practice in the industry is to partner with vendors who have advanced and specialized expertise in these areas. (Fig.1). These partnerships enable automakers to accelerate time to market, reduce development costs, and minimize fixed investments in specialized engineering talent and IT resources, while reliably delivering the most advanced technology. currently available.
Automotive original equipment manufacturers (OEMs) have long admired the speed of innovation and cost efficiency that is occurring in the consumer electronics space, particularly in the smartphone category. Ecosystem players such as Amazon, Apple, Google and Microsoft have been successful in attracting customers to their universes that they try to retain over time.
In the office space, consumers feel the need to decide whether they want to side with Apple, Google or Microsoft. This decision is rarely tied to a single device or a single purchase; it is a decision with more lasting impacts. As they seek development partners for their next-generation infotainment systems, OEMs must decide which platform they will use as the building block for their own unique IVI designs.
The growing dominance of the Android automotive operating system
Among the operating systems available, Android Automotive OS plays a prominent role as it promises to bring a complete ecosystem into the car. With Android Automotive OS as the underlying platform, OEMs can extend and grow customer loyalty and build lasting customer relationships, opening up new monetization opportunities.
Since its introduction in 2017, Google's Android Automotive operating system has gained traction as the platform of choice for building IVI systems. The list of automakers already using Android Automotive OS as their technology platform for in-car infotainment continues to grow and is expected to continue growing.2
With Android Automotive OS, an OEM-agnostic ecosystem has now entered the automotive world. In addition to OEM concerns over data sharing, the ecosystem offers a wide range of opportunities to expand, strengthen and monetize the relationship between users and car buyers.
Apps will receive regular quality and feature updates. And it's possible, based on customer feedback, that more regional variants will be added over time. Customers will benefit from an "always fresh" user interface that comes with a steady stream of innovations and services from the consumer electronics space. OEMs will certainly demand a fair share of revenue when apps are downloaded, updated, and installed.
Finally, customers can expect a seamless process when transitioning to a new car. Their new car will benefit from the ecosystems of Google and the OEM brand, allowing consumers to feel comfortable in their new vehicle from day one.
Given Google's leadership in consumer smartphones, communication tools, and apps, it's no surprise that automakers trust its ability to create a comprehensive ecosystem that brings its technological edge inside 'a car. By partnering with Google to adopt the native, open, and platform-agnostic Android Automotive OS, automakers can easily integrate the latest and most advanced IVI features, in a format that many consumers are already familiar with. comfortable.
The ability to integrate Google Maps functionality directly into the cockpit is an obvious plus, but automakers can also take advantage of Android Automotive OS's larger and more robust technology ecosystem, including safety, security and connectivity. The Android ecosystem, tailored to the different experiences and needs of each OEM, will have the greatest potential to generate happy and loyal customers.
Although Android Automotive OS is a robust open source platform and operating system for IVI capabilities, it is important to note that automakers must also add a "skin" on top of it, consisting of HMIs, screens, controls, embedded software, and most interestingly, future services. Since many major automakers use Android Automotive OS as their base, these skins, top layers, and extensions are usually where manufacturers can differentiate themselves from the competition and boost their specific brand image. User experience (UX) is key for consumers looking to replicate the ease, speed and intuitive nature of using a smartphone.
Proven Integration with the Android Automotive Operating System: A Must for Suppliers
When choosing a software and embedded systems vendor to help develop the IVI UI and custom ecosystem, it is imperative to choose a partner with a proven ability to seamlessly integrate their solutions with Android Automotive. BONE. Ideally, the vendor of choice would be a single source of complete, fully integrated cockpit systems with innovative HMIs that can be easily layered over the Android Automotive operating system.
For example, Elektrobit, one of the early innovators in this space, has partnered with several automakers, including Sony and Sono Motors, to design and implement advanced and personalized user experiences. This includes on-board software, vehicle functions, analytics, HMIs, etc., which seamlessly integrate with the Android Automotive operating system.3.4 One example is the cockpit design created by Elektrobit for Sony's VISION-S prototype vehicle that features the Android Automotive operating system. (Fig.2).
Building the cockpit of the future
Android Automotive OS quickly demonstrated its ability to attract consumers with its familiar smartphone-like functionality. Now, by integrating this open platform with an equally innovative and engaging user experience, automakers can create "cockpit of the future" designs that reinforce their brand image, establish their businesses as pacemakers and stand out. stand out in a crowded competitive landscape.
The references
1. https://www.globenewswire.com/en/news-release/2021/09/27/2303390/0/en/Global-automotive-infotainment-systems-market-size-to-amass-USD-42- 85 billion by 2027.html
2. https://www.autoevolution.com/news/heres-the-full-list-of-cars-powered-by-android-automotive-169169.html
3. https://www.elektrobit.com/ebguide/automotive-industry/#sono-motors-infotainment
4. https://www.elektrobit.com/newsroom/user-experience-and-infotainment-software-for-sony-vision-s/