"Korean Breast Cancer Patients Rarely Have NTRK Gene Fuses"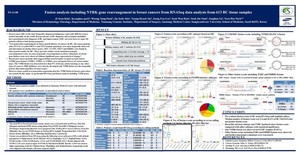 SAN ANTONIO, Texas – By Kim Yun-mi / Korea Biomedical Review Correspondent – How many Korean breast cancer patients can use tumor agnostic therapies? A local study that may suggest a clue to this question was disclosed at the San Antonio Breast Cancer Symposium (SABCS 2021).
Professor Kim Ji-yeon of the Department of Hematology-Oncology at Samsung Medical Center made a poster presentation on Thursday, posting the analysis of fusion status, including fusions of the neurotrophic receptor tyrosine kinase (NTRK ), by RNA sequencing (RNASeq) of tissue samples from 613 breast cancer patients.
The research team said breast cancer is the most frequently diagnosed malignant tumor and ranks fifth for cancer-related mortality worldwide.
Recent advances in early diagnosis and treatment have made it possible to detect breast cancer earlier and improve survival rates. However, the research team said that many breast cancer patients still have a disappointing prognosis.
Next-generation sequencing (NGS) has enabled researchers to learn about the genetic history of cancers, the research team continued.
The Cancer Genome Atlas (TCGA) found that the somatic mutations PIK3CA and TP53 were most commonly seen in breast cancer, and other studies found alterations in other motor genes such as MYC, CCND1, PTEN and ERBB2.
Recently, researchers suggested that NTRK gene fusions (NTRK1, NTRK2 or NTRK3) could be oncogenic drivers of various cancers, the research team noted.
"The NTRK fusion has been detected in less than 5% of breast, colorectal, lung or any other type of cancer. TRK inhibitors were already developed and NTRK fusion was the genetic alteration that could be targeted regardless of cancer types.
The research team collected samples from breast cancer patients who participated in trials at Samsung Medical Center and performed RNA sequencing.
The research team found 1,983 fusions by analyzing RNASeq data from 613 patients using seven methods.
Immunohistochemical profiling (IHC) showed that 356 patients (58.7%) had HR + / HER2- breast cancer, 42 (6.9%), HR + / HER2 + breast cancer, 53 (8.7%) , HR- / HER2 + breast cancer and 115 (25.6%), triple negative breast cancer (TNBC).
By intrinsic subtype, 174 (29.9%) were luminal A, 151 (24.6%), luminal B, 170 (27.7%), basal-type, 85 (13.9%), enriched in HER2 (HER2E) and 33 (5.4%), normal type.
IHC-based fusion events occurred in 59% of HR + / HER2- breast cancers, 26% of TNBC breast cancers, 9% of HR- / HER2 + breast cancers, and 7% of HR + / breast cancers. HER2 +.
Fusion events according to intrinsic subtypes occurred in 28% in luminal A and basal type, respectively, and 25% in luminal B, 14% in HER2E and 5% in normal type.
The research team said there was only one NTRK fusion (0.16 percent) in 613 breast cancer samples, which was extremely rare.
"Other fusion events, including ESR1 and ERBB2 fusions were observed, and further functional evaluations were warranted," he said.
TRK inhibitors are already available to patients with NTRK fusion regardless of cancer type in Korea.
Bayer's Vitrakvi (larotrectinib) and Rozlytrek by Roche (entrectinib) have entered the local market. However, they are not covered by health insurance and are only used as part of the drug manufacturer's Extended Access Program (EAP).
Last month, the Health Insurance Review and Assessment Service (HIRA) held the 10th Drug Reimbursement Review Committee meeting and recognized that Vitrakvi was valid for reimbursement.
However, Rozlytrek's reimbursement will be granted if Roche accepts the committee's proposal to lower the drug's price and accepts the proposed reimbursement rate, HIRA said.
If the drug price negotiations and government review progress smoothly, Vitrakvi could become reimbursable early next year at the earliest.