Researchers frame the future directions of mo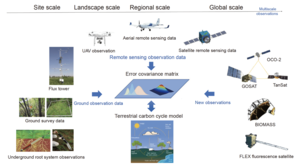 Data assimilation is a type of technology based on the mathematical principles of combining as much data as possible with explicit dynamic models to constrain the evolution of a dynamic system. It has been widely applied in terrestrial carbon cycle research to provide accurate estimates for carbon measurements such as CO2 and promises to combine the plethora of data available on the terrestrial carbon cycle. It is essential to allow the development of more targeted carbon mitigation strategies and policies to achieve "carbon neutrality". However, there have been few overviews summarizing the current state of terrestrial carbon cycle data assimilation and synthesizing progress for the future direction of terrestrial carbon data assimilation systems. Recently, scientists from the Tibetan Research Institute, Chinese Academy of Sciences (CAS), Northwest Institute of Environment and Resources CAS, Institute of Geographic Sciences and Research on CAS Natural Resources and Lanzhou University, have developed data assimilation approaches for the terrestrial carbon cycle. applications.
The authors reviewed the approaches which are essentially necessary to obtain the optimal fusion of a model with observational data while taking into account the respective errors in the model and the observations. Based on advances in carbon cycle models and measurement techniques over the past few years, researchers have summarized the mathematical principles of data assimilation and listed the major challenges of the terrestrial carbon cycle, including "equifinality". »Models, identifiability of model parameters, estimation of representativeness errors in surface fluxes, remote sensing observations and characterization of model data errors. The authors highlight new opportunities to merge multisource observations into a coherent carbon data assimilation system as new satellites to monitor sun-induced chlorophyll fluorescence and plant biomass and massive measurements on the ground became available. This study provides a framework for the next generation of land surface data assimilation systems and offers the way to help improve the estimation of carbon cycles at global and regional scales to serve future carbon management strategies to achieve carbon neutrality objectives.
To access the article, click here "Model-data fusion of the terrestrial carbon cycle: progress and challenges".
---
Newspaper
Science China Earth Sciences
Disclaimer: AAAS and EurekAlert! are not responsible for the accuracy of any press releases posted on EurekAlert! by contributing institutions or for the use of any information via the EurekAlert system.